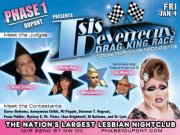 Isis Deverreoux's Drag King Race
Come on out Jan. 4th and Meet Your Contestants for PHASE 1 DUPONTS MONTHLY CONTEST! 10 Wonderful Kings are competing to be the next Drag King Super Star!W
Which Kings has the Charisma and Nerve to Shantay you stay and which one will ShaShay AWAY!

Xavier Bottoms
Anonymous Childs
MJ Poppin
Donovan T. Hegreat
Franz Fiddler
Mystery E
Mister Fister
Chaz Brightwell
BJ Bottoms
Sir Lyric
Show your favorite king support!!!!!
Show time 12midnight!
Cast meeting at 1030pm! Bring your friends!

GoGo Dancers Before and After the show!
Cant wait for yall to see our GORGEOUS PIT CREW!
Phase 1 of Dupont

Friday Jan 4, 2013
2am-2am
More events in Washington DC