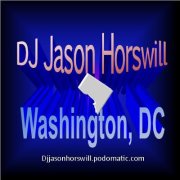 DJ Jason Horswill @ MOVA Lounge DC
Since 2006, Jason Horswill has been steadily burning a trail to the top as a DJ in National Capital Area.

Many have asked exactly what is his style?

The answer is simple: his eclectic blend of mainstream dance, progressive house, diva-licious vocals and dance floor classics come together in such a way that you would think Randy Bettis, Tracy Young and Bimbo Jones got together and had a baby…this alone sets him apart from all other DJs in and around the beltway. His driving beats and energizing transitions will take you on journey that be a truly unforgettable experience!

Having many residencies over the years, Jason has played almost every venue in the LGBT community of DC, including APEX, MOVA (formerly Halo), EFN Lounge (formerly Be Bar), Green Lantern, Town Danceboutique & Cobalt/30 Degrees.

Additionally, he enjoyed a summer residency at Cloud 9 in Rehoboth Beach, DE ('08-10), and was featured as local talent for the annual CHERRY WEEKEND hosted by The Cherry Fund in Washington, DC ('08-11).

His monthly "Dancing In The Clouds" podcast is enjoyed over 25 countries around the globe with thousands of downloads since its inception in 2010.


Now, the time has come for him to leave his beltway nest, spread his wings and share his love for music and dance throughout the NE Corridor.

Let's go dancing….in the clouds!!
MOVA Lounge DC
Washington DC
Friday Dec 28, 2012
9pm-1am