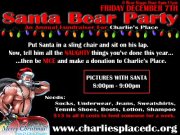 DC Bëar Crüe: SANTA BEAR PARTY
DC Bear Crue Presents
SANTA BEAR PARTY: An Annual Fundraiser For Charlie's Place
Friday December 7th, 6:00pm - 11:00pm

PICTURES WITH SANTA, 8:00pm - 9:00pm

Put Santa in a sling chair and sit on his lap.
Now, tell him all the NAUGHTY things you've done this year...
...then be NICE and make a donation to Charlie's Place :-)


NEEDS:
Along with monetary donations, they also need...
Socks, Underwear, Jeans, Sweatshirts,
Tennis Shoes, Boots, Lotion, Shampoo

A donation of $25 will feed 2 people for a week.

Charlie's Place was founded in 1990 as a non-denominational, anti-hunger, homeless ministry of St. Margaret's Episcopal Church. Although Charlie's Place resides at an Episcopal Church our focus is to address social needs and not religious ones. Charlie's Place takes special care in welcoming all people of any race, age, gender, background, faith or sexual orientations without judgment or evangelization of any kind.
DC Bëar Crüe

Friday Dec 7, 2012
6pm-11pm
More events in Washington DC